Friday, August 18th   
Eight More Pages Uploaded for the New Beginning Story line this week!
   Slight Tentacle Hentai WARNING!    
This week has a few pages of tentacle-like hentai stuff. Not my normal fare for sure but wanted you to know. Mostly done for a change up. 
Please enjoy and feedback welcome! Thank you so much for your support!
Gallery link here:  New Beginning Gallery
New Beginning Comic now in the Ready Art Zone Store!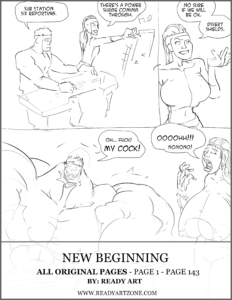 The Patreon finished the WHOLE 143 page comic and you can have it too if you like. Head on into the store RIGHT HERE and for a mere 150 CENTS you will own a high res version of the story that is unfolding right now at the main site. 
To put this in perspective you can read the whole thing about THREE MONTHS EARLY FROM THE MAIN SITE. If that's not enough to convince you then consider the 150 cents a donation to the site and the upkeep as well as a vote for more art! 
Check out the latest in the galleries and Enjoy!
Talk with you soon!
-Ready