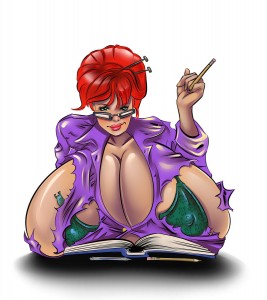 Hey all – Ready here.
I was speaking with a longtime BE/GTS friend and fan Titaneer and we were talking about art, the state of the industry and a few other things. I ended up writing a long letter that I would love to share with you here. Thank you to Titaneer for letting me do so.
Some preamble –
Ready Art Zone has over 10,000 registered users! – Can you believe it and THANK YOU FOR STOPPING by. As you know it's free and will continue to be free with your support. And by support – JUST VISIT! HA! I love this and I plan on keeping it up.
I have been doing breast enlargement and giantess art (BE/GTS) and putting it out there for well over 20 years now. Geez, that is crazy to think about but there it is. I would like to think I have grown quite a bit since I started but you be the judge. Some of the earliest work here is 10 years into my "career". I actually think I have been going at it for a lot longer but most of that stuff was tossed out a long time ago (though I wished I kept it). I remember the ACotto's FTP. I recall reading "The Mistake" in '93 and following a few other FTP sites. Crazy to think that was OVER 20 years now. You have to remember there was NOTHING like the content out there today. I got my limited free stuff via alt.sex.stories and decided to start sharing my (arguably crappy) work with people like Dr Enlarge a few others.
Times have changed and we are in a much better place in terms of available content but I do miss the good ole raw stories like The Mistake. I check Overflowing Bra but a lot of times it's a slog to go through all the stuff there. Sorta like rummaging through a closet for your fav shirt.
So this brings me to my talk with Titaneer. I think he got me reminiscing about some of that. Without further ado – here is my response to his VERY nice letter where he spoke about his favorite stories of mine as well as asking me for a casual review of his art..
---
Titaneer,
Well, thank you for that reply. Very thoughtful and helpful too!!! So glad you took the time to cover a lot of ground!
OK – well first off I love this site (Ready Art Zone). I hope to keep it going. I agree about the forums. Mostly the site is about viewing the images and not a discussion place. I am over 10,000 registered users at the moment (you HAVE to be registered to see the site). That was mostly so I could control the content and not worry about anyone seeing things they were unaware of THEN complaining about it. Seemed to work out pretty well.
I think I mentioned this before but I would love to do this full time. It's a very fun side thing but the pay is essentially not there at the moment. The commission money I make and the time I put in are keeping the site strictly a hobby-esque affair. I took a new job last year after a pretty solid year of monthly updates at RaZ and selling growth labs. They did OK. We made a little money (Ragnarok385 and myself) and they end result was tons of work for small pay.
I love the new stories I'm doing. Much, MUCH more in the spirit of the old growth lab and old stories (if you could call it that) I used to draw. Mostly just pure growth and artistic experimentation. I feel I'm still coming along as an artist and there are so, SO many talented people out there that I need to keep growing. I look at my earlier stuff and am like WOW – that was a LONG time ago! HAH!
I attached a panel from a new story I am drawing. It is about 100-200 pages away from where we are so you won't see it anytime soon at the release rate I do. I think this is pretty well showing the drawings are evolving and I'm happy with where the faces and bodies are starting to go. I like the comics and the uninhibited stuff as you can tell. Most of what you pointed out are the things I enjoy and focus on.
Growth Lab is on hiatus. It was the most labor intensive work I had ever done. I actually took a seven year break between the start of GLab 7 and the end of it. I really enjoy interacting with the fans here. I made sure forums were available as well as commenting for each picture was enabled. It's important to me to hear what people like.
Whatever happened to all the old greats? I feel like it's me (not that I stand exactly shoulder to shoulder with them) and Bust Artist (and I was never his level) from the old days. Dr Enlarge is around but pretty well stopped. The mighty KlnKing is long gone (I think I was the last of the old guard to speak with him). He alone is my #1 BE/GTS hero and to this day – his art blows me away. Mr HHH and a few others are on huge hiatus. Some of the second internet gen are around and I am always surprised people recognize my stuff  even now! Crazy but I am glad they enjoy some of the art and stories – I do my best.
I feel like She-Hulk, Hulk and Village of the Giants are my "Go-To" GTS stories and I've always enjoyed the growth scenes in those. For my stuff, I look to inject humor and make sure it's all in good fun with hopefully some sexy in there.
Geez – one thing I REALLY work on is the clothes ripping. That is the SINGLE biggest thing I have poured my talents into! I hope you like the latest stuff. I feel I have gotten some of the basics down and am able to do things I like. That took a LONG, LONG time.
Yep, the teasing of growth is there and I feel you will enjoy the next pages coming in the Michelle story. It is one of the LONGEST most teasing growth sequences I have ever drawn!
[Note: The following is strictly a friendly look at Titaneer's art WHICH I GREATLY ADMIRE. I think I went a little overboard but I wanted to reach out and hopefully share some of my own art perspectives about the drawing process. I kid you not that my drawings now are the result of some years and years of craptasic clothes ripping and terrible anatomy. Not that I proclaim myself a master, I do think I am better than I was. HA!]
OK – your art.
First – I love it. You are doing some really nice things and I really appreciate the color. The storytelling is PRETTY DAMN GOOD. I am referring to the writing and such. Funny and the way people are growing and what they say are awesome.
I actually like a lot of your sequences and the ideas behind them are awesome. The art itself does inspire me since you draw EXACTLY like I used to. That is to say – I like the style. Mine has changed a lot and it was mostly me starting to kinda pay attention to the body under the boobs and how it actually works. HAHAH! Well, like I said I probably spent my first 10-12 years drawing pretty rough stuff, MUCH rougher than your stuff is and not as polished as yours is with color and ink. I started to adjust my style with the Growth Lab series and I think numbers 8-11 in the GLabs were sort of watershed events. I felt I drew MUCH better by the end of them.
I attached one of your DeviantArt pieces with a quick (10 min) redraw I did. I am not looking to insult your work but I'll tell you this. I wish someone had helped me out when I was starting those many years ago. I had to listen to a LOT of people talk about my poses and anatomy. Some were hurtful and it was annoying since I was just doing what I loved. SOOOO…..
Let's start with the obvious. You style is your own there is nothing I can do to make you into me or vice versa. What I can "suggest" are a few things which might make it EASIER for you to draw and have nice looking clothes ripping stuff.
First, boobs are big water balloons. I GENERALLY draw the body without boobs first. I do a rough sketch and try for a sexy pose. I then draw the face and head to make her pretty. From there I draw the boobs NAKED, NO CLOTHES OR RESTRAINTS and THEN I draw clothes on top of that. OK, that allows me to draw clothes tight and I erase parts were the boobs are squashed into the clothes and then I PUSH out the boobs from the rips and holes. Makes the whole thing WAY faster. I also try to do boobs as smooth lines and continuous curves. I feel the more overlap on body parts the better. Looks more realistic. I also realize MANY times the stomach is going to be covered unless I part the boobs and stuff. This is all what I see sometimes in your work and I smile knowing you are doing really well and thank GOD you are drawing too!!
Your stuff is fine and if you are looking to change up I would suggest just drawing figures first, then boobs, then clothes and paying attention to things like the dimensionality of the face. It will make a GIANT difference in your drawings. As for the clothes ripping. Look at guys like Arthur Adams or other comic greats like John Byrne (or insert new awesome artist name) drawing a hulk-out. They are masters. You can learn from some of the old She Hulk and Hulk artists but they are all over the place. If you can draw rips along apparent seams you are golden. This looks VERY good and VERY realistic
Hope that helps and I might repost this message on my own site if you don't mind. I think others might enjoy it. I won't if you say no since I only want to help and am not looking to slam your art or anyone's. I have been doing this WAY TOO LONG and know how fun and at times hard it can be!
Best,
-Ready

Join the forum discussion on this post